Sung-Sun Kim, the manager of Jacksonville JTS in Florida, and the members have conducted a campaign to celebrate Buddha's Birthday for 2 years. The letter of Jacksonville JTS' campaign, sent from Sung-Sun Kim, has arrived.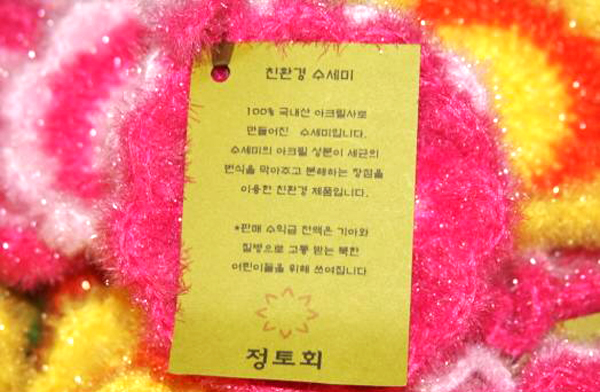 "Last year, we gave the proceeds from selling homemade KimChi to JTS America to help children in North Korea. This year, however, we had to come up with different ideas for making donation, because of the rising price of cabbage. Making sponges instead of Kimchi, and selling them was the idea we were looking for. Many JTS members loved the idea too. We could get some threads for making sponges by other JTS member from Korea. Female members in Jacksonville JTS had woven roughly 160 sponges for 3 weeks at their places. We sold them at 5 dollars a piece, at 10 dollars double. In the beginning of campaign, we were worried, because people might think that the price is too expensive. Fortunately, the sponges, we had made, were sold like hot cakes. I even wished we had more sponges. We had used acrylic threads for sponges, it gave sponge shine and rich form. We tried mixing two different kinds and color threads, and it turned out to be beautiful. It was grateful to promote environment matters to people and save our earth. I was told that every members in Jacksonville JTS, felt happy to have Buddha's Birthday meaningful in each year. I was thankful to JTS members for their time and support. We have made 750 dollars spending a lot of our time to make and sell sponges. Meanwhile, I've just got the heartbreaking news that there are many people dying of starvation in Hwanghaenam-do, North Korea. I hope that the money, we have saved, will be well used for starving people in North Korea. Sincerely, Sung Sun, Kim"
Thank you Sung Sun, Kim and other Jacksonville JTS members in Florida. The contribution from Jacksonville JTS will be delivered to the children suffered from diseases and starvation in North Korea. We truly appreciate your support.