"I hope children can make their dream come true with these uniforms"
From this year, students of Sujata Academy in India are beginning to wear a new uniform. It is a splendid uniform with a fabulous beige jacket, check shirts, and suspenders. The one who designed this uniform is a designer, Yoo Jung-soo. We had an interview with her who just returned from study abroad and is currently at the peak of busy days as a new designer. Let's find out what motivated her to share her talent in such busy times with what kind of thoughts in mind.
Nice to meet you, please introduce yourself for readers of our newsletter.
Hello, my name is Yoo Jung-soo. 2 years ago, I was working as a designer, launching a brand of ladies apparel named after me, JUNGSOOYOO. My major in university was fashion and also studied in Studio Bcrcot of Academie Internationale Coup de Paris in Paris, France. I gained work experience at Sonia Rykiel as an internship and now I am continuing my brand design in atlier in Shinsa-dong.
What motivated you to donate your talent at JTS?
On my friend's recommendation, I participated in a training program called, 'Place for Enlightenment' and saw a video clip that introduces JTS. What came into my sight were students wearing school uniforms and the t-shirts with the JTS logo. I thought I wanted to help them, so I told my idea and few days later JTS called me. Just at the right time, they needed someone to design a school uniform. That's how I started this work.
What did you focus on the most while designing?
I wanted to design a uniform that children can feel proud of. Considering the fact that children would wear every day, I chose the main color that can be cared easily. With simple and classic design, I emphasized with similar color as the main color. Also, while Indian boys do not have particular restriction on clothing, I heard that girls in the upper grades are sensitive about a scarf that they wear on the chest and the length of the skirt. Considering that, I separated summer uniform to high, middle, elementary grades and currently students are first wearing the designs of middle and elementary grades. For the design of high grades, I will check some opinions and start manufacturing.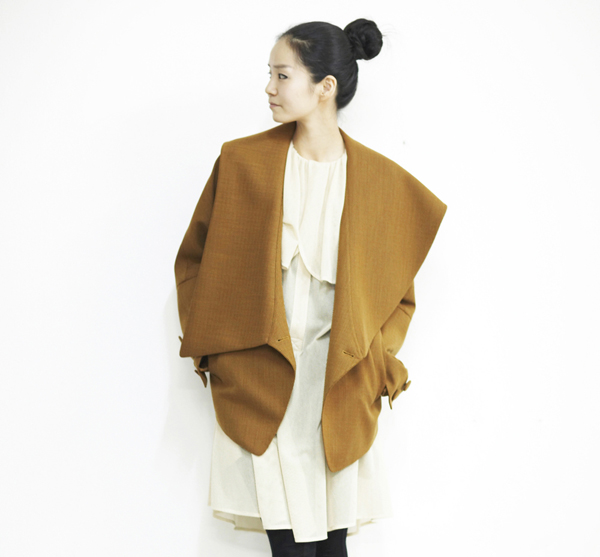 Other people helped with providing fabric and making uniforms. Exactly what kind of cooperation was performed?
After the final draft was done, JTS members in local factories in the Philippines conducted all the manufacture works. First sample work was processed by comments through emails. With detail design, we edited together by exchanging the sample works for three times through international delivery. We could bring out the best results thanks to the members in local who took close care of the manufacturing from pattern, fabric, samples and the making.
Were you not tired of volunteering in busy times?
To be honest, many thoughts came to my mind. (smile) I was very pressured for time because of the preparation period for season collection. It was harder than I thought to work and volunteer at the same time. And I was also nervous at the bottom about quite big scale of project. I thought that volunteering certainly isn't a job for everyone. I also felt guilty because I started with pleasure but I started feeling uncomfortable due to my own works. But thanks to those times, I had a time to look back at myself. After I send the uniforms, I received photo of smiling children wearing the uniform and stories of happy children. I felt an overflowing joy and huge satisfaction. Especially, the fact that this is the result of many people's service and devotion meant a lot to me.
What do you want to do if you meet them?
I can't communicate with them,…(smile) If I really get to meet them, I would really want to hug them. What the director of JTS told me when we started the work still remains in my heart. He said, "If you consider those children as your own children and make clothes for them, you will make the best uniform." Whenever children come into my mind, I look at their photos and think that their clear eyes and pretty smiles are very beautiful. And these days, instead of their new uniforms, their small bare foot covered with dust jumps into my eyes. I guess small sharing cause another sharing.
What kind of designer do you want to be?
I want to walk along my way slowly, reminiscing my pure past which I dreamt to be a designer. I would spend time without hurry and creating my own design world. Then eventually one day my clothes will be sold around the world. I hope many people can remember my design even after my death. I am happy because I have my own goal about designer.
Any word for our readers?
Those children don't lose their smiles even in a poor environment and they often flash across my mind. Compared to them, I enjoyed so much privilege and lived desperately to achieve more than I want. Now I look back after myself. I think we can make a better world by sharing what I have with other people even though that is an insignificant thing. Through this experience, I learned that talent donation is not a special thing, but it is making time for sharing what I am good at. Also I learned that the cost of spending that time is more than rewarding and pleasant. So, if there is anyone who is interested in talent donation, I hope you can act right away. There are many places that need various talents. JTS will help you with a simple start. Join together.