"Selamat Siang! Nama saya Rani"
(Which means "Hello, My name is Rani." in Indonesian.)
A story of Rani who dreams of being an English teacher.
Interviewer : Sung Gun, Oh, the member of JTS Indonesia.
There is a grocery shop where JTS members in Indonesia often go to, and Rani is an only daughter of the grocery shop's family. Indonesia is matriarchal society, so Rani is almost like the only son and the eldest son in Korea. She is a nice and cute little girl. She was the kid that I talked to for the first time in Indonesia. I hope she is happy teaching English to cute little children in the future and I also hope the town, where she lives in, become more peaceful and happier in the future just like Rani's wish.
Sung gun: Please introduce yourself. What's your name?
Rani: My name is Rani Abustina Fadilla. I was born in August, so my parents gave my name after Abustus which means August in Indonesian. I was called Rani most of the time.
Sung Gun: How old are you Rani? And who do you live with?
Rani: I'm 11 years old, 4th grade in Sikabu Elementary School. I live with my father, mother, older brother and 4-year-old younger brother. My father runs a small shop, and my older brother goes to middle school.
Sung Gun: 4-year-old brother! He must be so cute! How do you spend your day?
Rani: I usually get up at 6 o'clock in the morning. After I take a shower, I prepare for school. I have Nasi Goreng as my breakfast at the restaurant in front of school. The first school class begins at 7:15, finishes at 10:00, the second is 10:30, to 1:00.
Sung gun: The class hour is too long! Two and half hours study? Is that right?
Rani: Yes, it is. The break time is 10:00 to 10:30. We get 30minutes to take a break.
Sung Gun: What do you like to do in your break time?
Rani: I go to the food stand and have Satay with my friends. It's delicious.
Sung Gun: Sounds like fun. How many students are in one class? Do the boys and girls study together in same class?
Rani: My school is very small. It has only one class at each grade. There are 28 students in my class. Boys and girls study in same class, but boys and girls sit separately. Girls sit together and boys gather and sit together. My close friends are mostly girls.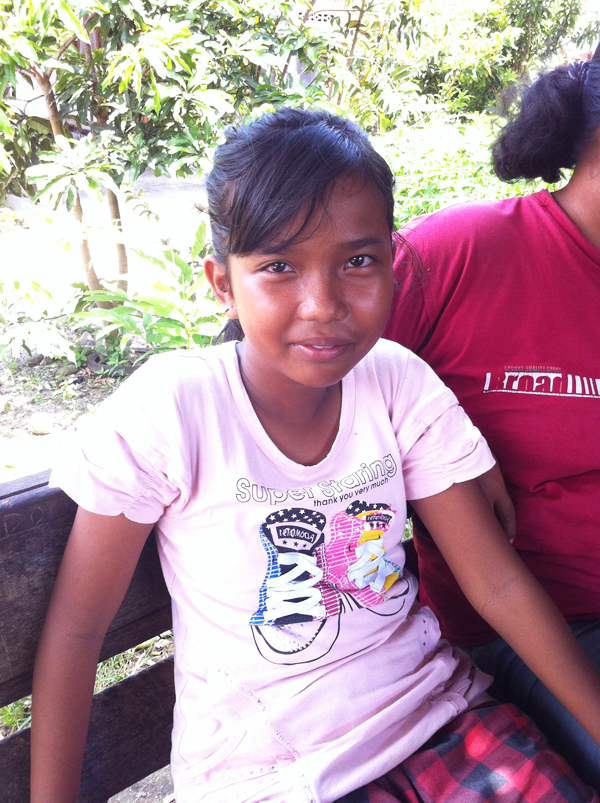 Sung Gun: What kinds of subject do you learn at school?
Rani: I learn Indonesian, Math, Science, Social Studies, P.E, Religious Education, Music, Art, and English from school. I also learn traditional custom like Minangkabau culture in my Traditional Education class. Traditional Education is my favorite class. I don't like Math. It's a bit difficult for me.(laugh)
Sung Gun: How do you dress when you go to school? Do you wear school uniform?
Rani: Yes, I have four kinds of uniforms; regular clothes, Muslim clothes, gym clothes, and the uniform for Saturday.
Sung Gun: 4 kinds of school uniform? Wow! That's a lot.(laugh) What do you usually do after school around one o'clock?
Rani: I come home and change, eat lunch. I help my mother's work at grocery store, do the dishes and laundry. I can't cook well though. I play Jump Rope with my friends. Sometimes I look after my younger brother instead of my mother. He is such a cute trouble maker. I more like take care of him not playing with him, because he is too young to play with for me.(laugh)
Sung Gun: You help chores, take care of your younger brother after school. What a good child! How do you spend your evening?
Rani: I was thaught Traditional Education called 'Mungaji' from 7 o'clock. When I study Mungaji, I wear Hijab and try to be well-dressed. I learn 'Al-Quran' which every Muslim should know of in that class. The class finishes at 8:30. I go to masjid to study Al-Quran every evening except Sundays.
Sung Gun: What's your favorite things to do?
Rani: Playing Jump Rope with friends! I like Cherry Belle(Idol girl group in Indonesia) and I like to watch TV drama. I don't remember the title, but I love to watch Korean dramas too.
Sung Gun: What is your dream? And what would you like to have your town in the future?
Rani: My dream is to become a school teacher, an English teacher in Elementary School. Children are so cute and I like to teach something to them. To become an English teacher, I have to take English literature class at University and pass teacher recruitment test. So I need to study very hard. I love to live in this town. It's my hometown as well. I would love to have my town developed and nice place to live.