Philippines JTS Song Hyunj-ja
The Typhoon Sendong (also known as Typhoon Washi) struck Cagayan de Oro and Illigan from the night of December 16th to the dawn of 17th and its damage caused the worst catastrophe. Due to the heavy rain that hit mountainous region in Bukidnon, copious amount of rainwater flew into the cities of Cagayan de Oro and Illigan.
Rainwater flew as rapid current and swept away the rivers and islands. I've been hearing and using the saying, 'Mindanao has no typhoon damage' but now that is not used any more.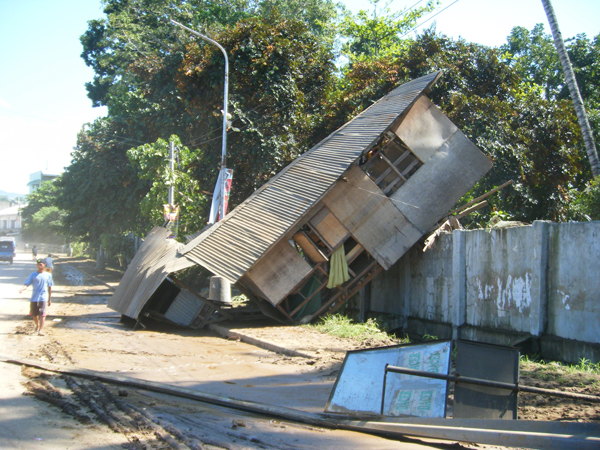 We lived in a place where there is no television and internet does not work properly, so it was Sunday morning of December 18th when we heard that over 100 people died due to typhoon damage in Cagayan de Oro. When we contacted a friend who lives in Cagayan, he said homeless victims whose house was swept away by the typhoon are gathered in shelters and water pipes of the city are all damaged so they are in desperate need of water.
We thought we had to supply water by any means, so visited a nearby fire station in Libona. We planned to meet the mayor and ask to borrow a fire truck. Fortunately, they had fire trucks and when we explained the situation to the manager, he said we needed the permission of the mayor. So, we visited the mayor despite the time was early in the morning on Sunday.
Thankfully, the mayor of Libona gave us the permission immediately and ordered the fire trucks to supply water to Cagayan de Oro. Thus, we could supply 12,000 L of water by fire trucks. In addition, we bought 15 drums (220L) and filled with water to supply to the homeless. We were anxious about the disorder and chaos during the distribution, surprisingly people lined up autonomously and tried to maintain orders without big chaos.
We were glad that we could supply water to local residents who desperately needed drinking water. For a week of chaos, JTS used fire trucks and trucks to supply 45,000 L of life-saving water to 5 different cities.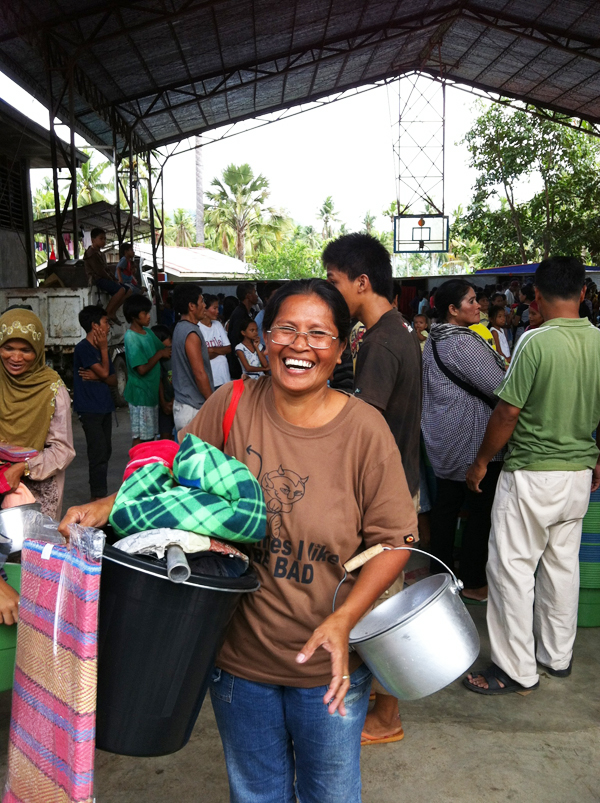 We had an exploration on severely damaged regions. Riverside regions such as Macasandig, Balulang, or Carmen were badly damaged. We started off with Macasandig. The office that we used before moving into JTS Center in 2010 was also damaged.
According to the owner, water came up to the 2nd floor and 4 people died in the near alley. Everything sounded scary. We visited the shelter for the homeless people. Shelters that were set up on basketball court or school auditorium were full of homeless residents. Fortunately, they were provided with enough good and water.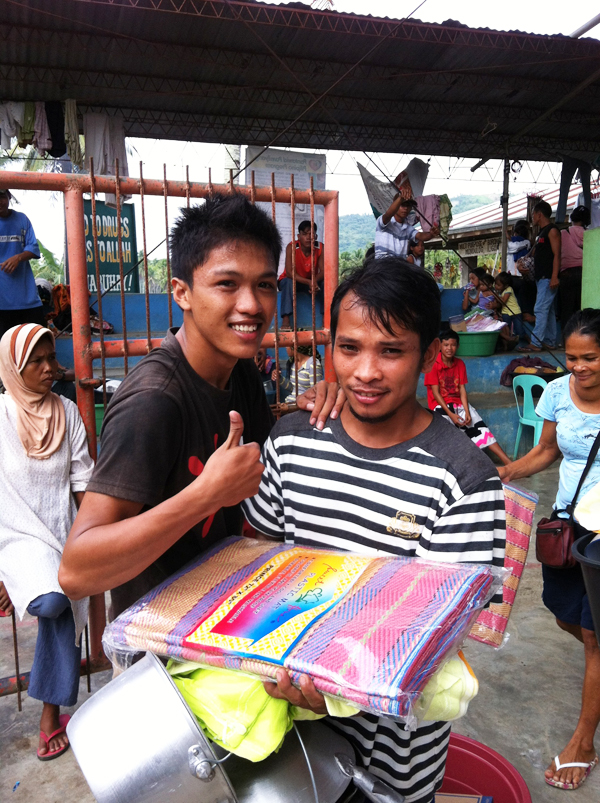 We asked to Trel Borja, the manager of Relief Center in Xavier University, about what the homeless residents desperately need. She said many government institutions and organizations are supporting food and water, while they also need cooking tools or dishes that were swept away by the flood. So, JTS provide those daily necessities for the sake of 1,000 households who lost house and furniture. Those necessities included spoons, dishes, forks, cups, bowls, frying pan ,and more.
We first distributed to residents staying at the upper Balulang. December 25th, in Christmas, we distributed number tickets to the homeless residents with the help of workers in Development Social Welfare Department. By priority, we supported families whose house disappeared entirely and they were 244 families.
In the morning of December 26th, we started distributing the supplies. JTS members and workers from local government worked together to distribute the supplies in an orderly manner. The residents looked happy with their arms full of our supplies. It was tiring to work in such hot weather, but when I saw their happy face, my face also filled with smile. The distribution took about an hour and a half.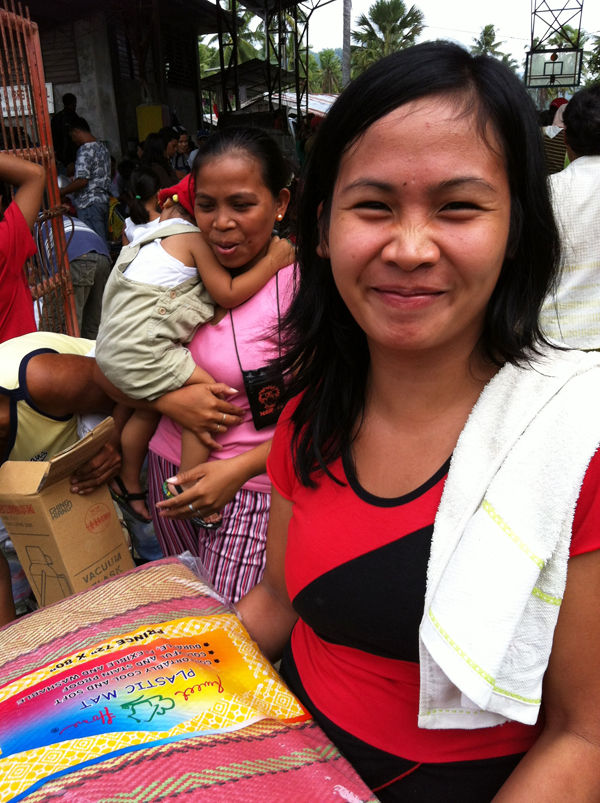 In Cagayan, besides supplies and water aid, we also conducted disease surveillance and quarantine activities. 3 days had passed after the typhoon with stinky smell everywhere, but the local government was not doing anything. JTS members started disease surveillance around Macasandig and Balulang where there are many puddles. Residents appreciated our works for preventing their children from disease.
After the first distribution, we thought it was enough for Cagayan de Oro, so we moved on to next city, Illigan. Illigan was relatively short of aids. December 29th, under the guide of officer in Education Office, we explored the damaged regions. The situation was similar to Cagayan de Oro. We heard that entire houses in Mandulog region were swept away by the flood, so we wanted to visit them.
However, the officer said Koreans needed permission since it is a Muslim area and he added that because of that it receives very little support. We asked the officer for getting permission and decided to come back later. And we searched for Muslim officers who can help us and fortunately it was not hard to find one.
January 3rd, under the guide of a high official of Lanao del Nortem we visited and explored Mandulog region. 9 people died with 24 people missing and 245 houses were totally damaged while more than 300 households lost its furniture. Mandulog school (8 classes, 385 students) on the riverside was also severely damaged. This region lacked supports. JTS decided to implement 2nd project in this area.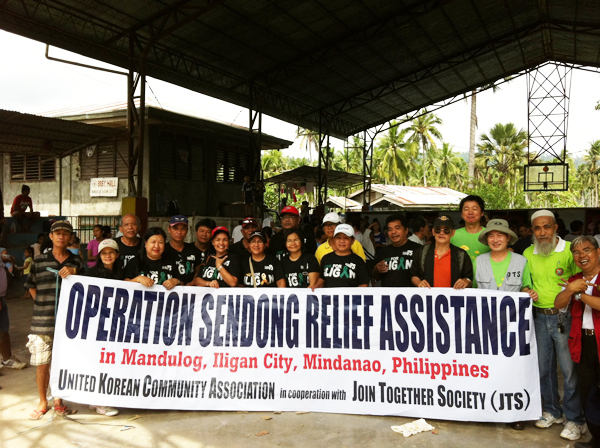 January 7th, we distributed our supplies with the help of various government officers, and Illigan local volunteers. We supported 560 families with added supplies including blankets and mattress. I can still remember bright smile of children and their fathers, holding hands together with our supplies in their another hand.
JTS members in the Philippines spend very busy and sweaty Christmas and year-end holidays exploring damaged regions, purchasing supplies and distributing them to local residents. But, it was a very meaningful and worthwhile Christmas and holiday, because we provided supplies and gave courage for people who lost their house and families to start a good life. We thank everyone who supported JTS in the Philippines so that we can work like this.